Nylon 6 | Nylon 11 | Nylon 12 | tPU | Nylon+glass filled | Color dyed | vapor smoothing
Selective laser sintering | SLS 3D Printing service
We allow you to rapidly verify your designs with low-cost prototypes.
Simply upload your files by click the below button, get a quote within hours, and go into production within minutes.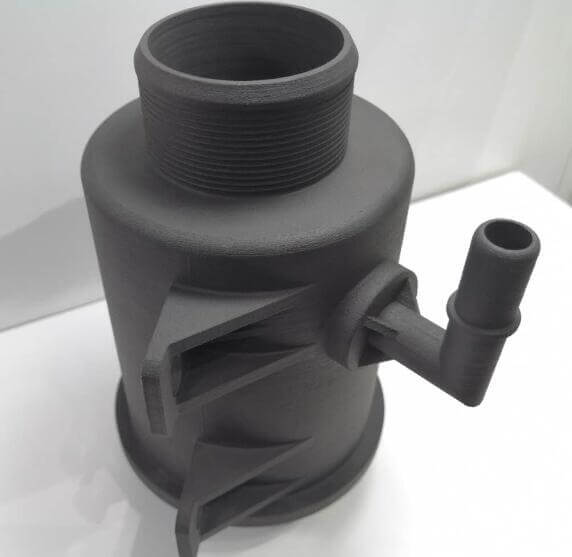 What is selective laser sintering?
Selective laser sintering (SLS) is an industrial 3D printing process that produces accurate prototypes and functional production parts in as fast as 1 day. 
It creates highly durable final parts that require heat resistance, chemical resistance, flexibility, or dimensional stability. 
With SLS 3D printing, no support structures are required making it easy to nest multiple parts into a single build and an economical solution for when higher volumes of 3D-printed parts are required.
How does SLS 3D Printing work?
6 easy steps for making parts in SLS.
The powder is dispersed in a thin layer on top of a platform inside of the build chamber.
Preheats the powder to a temperature just below the melting point of the raw material.
Laser scans a cross-section of the 3D model, heating the powder to just below or right at the melting point of the material.
Build platform lowers by one layer into the build chamber, and a recoater applies a new layer of powder material on top. The laser then scans the next cross-section of the build until parts are complete.
Cooldown the part, move the powder, sand-blasting the surface to make it smooth.
Dyeing or painting to get more colors
The materials available by slS 3D Printing Service from iN3DTEC
Technology
Material
Surface Finish
Material Highlight
Technology
Selective Laser Sintering (SLS)
Material
Surface Finish
Material Highlight
PA6, PA12, PA+GB with high-temperature resistance, chemical resistance, high toughness, and durable…
Quality assurance & No limitation
SLS 3D Printing with a high accuracy with +/-0.1mm, no support needed, it allow you to design your parts freely…
It allows you to make your part on-demand, and save your mold-free for low-volume production
4 Reasons to Use SLS 3D Printing services
Why choose SLS 3D Printing services?
SLS 3D Printing is now more popular than ever, and businesses all over the world are embracing it to boost productivity, eliminate unnecessary costs, and make new and exciting products and services.
Whether you are an industrial engineer looking for a powerful production solution, or a doctor seeking an efficient way to create prosthetics, SLS 3D Printing is a good choice.
Swimwear
The world's first completely 3Dprinted ready-to-wear swimwear by Continuum Fashion. It consists of waterproof PA 2200, which passed ISO skin sensitization testing and is fully customizable:
Bike Stopwatch holder
The stopwatch 3d printed with customized color and customer's personal watch. It consists of UV resistant PA 2200, which is very suitable for outdoor applications.
See how the world's most innovative companies are using SLS 3D Printing Service for getting protoyping & on-demand production.
The customers behind our success
Upload your file to get an instant SLS 3D Printing quote
All uploads are secure and confidential