How to select a 3d printer slicer?
Top 9 3d printer slicers you should know
Overview:
How to select a 3D printer slicer? With the wide application of 3D printing, If you use 3D printers to transfer your digital models into real products, you should know different slicer results in different printing qualities. So selecting a good 3d printer slicer is crucial to making fantastic products.
For those who don't know, The 3D Printer slicer is computer software used in the majority of 3D printing processes for the conversion of a 3D object model to specific instructions for the printer. A3D printing slicer prepares a 3D model for your 3D printer by generating G-code, a widely used numerical control (NC) programming language.
The selection of slicers is vast. So to help you find the perfect fit, our 3d printing machinist lists the top 9 3D printer slicers you should know.
Attributed to the continuous improvement of its software by the Cura team. Of course, it is free. Cura is becoming the most popular 3D printer slicer in FDM 3D Printing software.
 
Cura 3d slicer supports basic, advanced, and expert modes. So whether you are a beginner or an expert, this software is a good choice. In addition, cura has a strong calculation formula, which gives it good advantages in tolerance compensation, gap filling, strength optimization, support blocker, etc. Ideal for printing engineering and high-performance plastics.
 
Advantages:  Ideal for experts, There are over 400 settings to fiddle with in Custom mode. And you can fiddle with all of them smoothly since the user interface is fast. What's more, it combines with Solidworks and other advanced CAD software.
 
Disadvantages: Like a coin has two sides, using Cura results in a slower print speed, around 15% off than others.
Compared with Cura, this 3d printer slicer is much easier to use. You can start to use it after some simple configurations. As you already know, how to reset the support structure more fast and conveniently is a key factor affecting the success or failure of 3D printing. So Simplify3d is doing a great job on this. What's important, this software allows you to do 3d print simulation before real printing. This can help the users discover errors that may occur.
 
Meanwhile, this 3d printer slicer supports the most available 3D printers – you can download and import over 100 3D printer profiles. And if your model isn't on the list, adding a profile is relatively easy.
 
 
Advantages: Easily using and perfect compatibility with printers make it quite stand out among so many 3dslicers.
 
Disadvantages: Due to the positioning of the software, it might not a very good choice when you print some high-performance plastics in which chamber temperature needs to be adjusted. But, to be honest, this is a flaw that 99.9% of the software on the market has.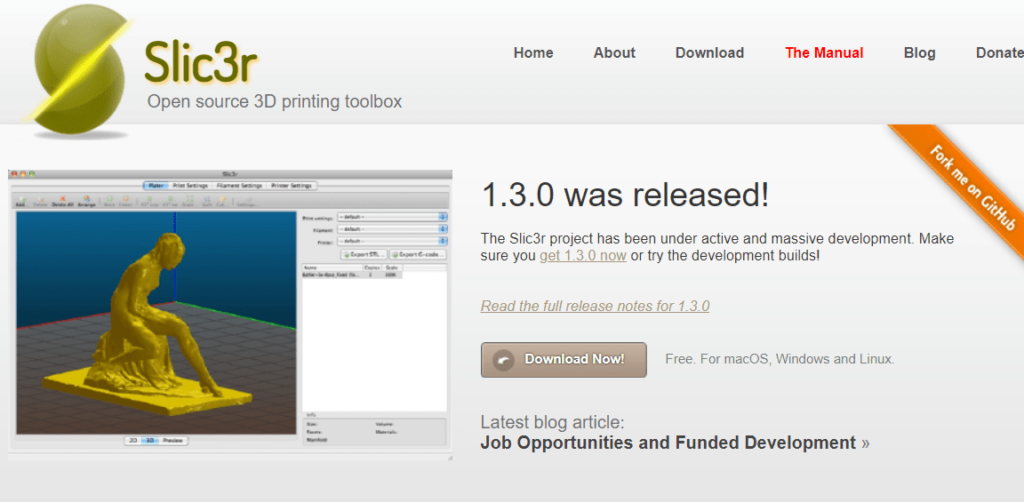 Slic3r is a widely used 3d printer slicer thanks to its rich functions. You will like it if you own multiple-brand printers. Its configuration handling system was designed for people working with multiple machines and filaments. Do you want to print multiple colored parts? Then please try slic3r. This slicer allows you to print dual multiple extruders, it means that you can use it to control different colors of filament input.
 
This slicer also has a very cool cooling strategy to regulate your fan speed and print speed to ensure each layer has enough time to cool down before the next one is laid on.
 
Advantages: Real-time 3D slicing can slice fast even if your computer is out of age.
Disadvantages:  Print time and material estimates can be off a bit.
Prusa Slicer

Among so many software, we love PrusaSlicer because it has a smooth user-friendly interface and improved new features, such as community profiles for 3rd party printers. Besides, the color change on preview, color-painting for parts needs multiple colors, STEP format import, Automatic model repairing, 10+ languages, and sending G-code over the internet make it deserves a try.
The quite interesting point of PrusaSlice is Paint custom supports directly on the model. It is quick and easy. You can also use custom meshes as support blockers and enforcers. Everything is neatly saved in the project file, always customizable.
Advantages: Almost all-in-one software.
Disadvantages: It takes a little time to make the correct settings if you are not using their printers, but we would like to say all the time consumed deserves.
OctoPrint


The OctoPrint allows you to control and monitor all its activities from your web browser and handheld devices through installed Raspberry Pi. So you can access the embedded webcam feed and watch remotely how your printer is creating your newest thing. Among the many great features is an integrated 3D slicer software based on the trusted CuraEngine. This means that you won't need to slice your files on a computer anymore, you can send over the STL model, and the printer will do the rest.
Advantage: 100% real-time monitoring and 100% open source allow the hobbyist to modify their needs.
Disadvantage: Compared with Cura, the software still needs improvements, but it is good enough to do 90% of your work. So that's why it is on our recommended list.
ChiTubox


So far, ChiTuBox is the most popular one among so many 3d slicers in SLA/DLP. It has two versions, a Free basic version and paid Pro version.
This slicer has plenty of useful tools, including size scale, part hollowing, repair panel, and digging holes. The auto-support feature is impressive, and processing times are short. All in all, ChiTuBox is a great alternative to proprietary slicing software options that fall short.
Advantage: Easy to learn, including most of the basic tools for printing
Disadvantage: The price is a little high but fair.
Pre-Form


Pre-Form owned by Formlabs, is a smart 3d printer slicer. It allows users to monitor prints and materials, track resin and tank usage over time, alerts on the go, and print queues. Moreover, this slicer allows you to export data to your ERP or MES system. This is a wise feature for teamwork.
Pre-form also automatically checks for updates daily upon launch if the computer is connected to the internet.
Advantage: Easy to use, Free, real-time monitoring.
Disadvantages: If you don't have a Formlabs printer, then it will not be a good choice because Preform only allows saving as a "form" file.
Magics


Materialise Magics is an enterprise-level professional 3d printer software. Although it is very expensive, this software is one of the best options for running a large industrial 3D printing service center. Why do we say this? Because this software has powerful functions. It supports multiple format CAD files, such as STL, BOJ, STP, SLD, and IGES.
Furthermore, it has many useful features, such as file issue detector, hollow, dig holes, split, file issue repair, and even including draw simple feature CAD files.
Advantage: All-in-one software, ideal for industrial SLA, SLM, and DMLS printing.
Disadvantage: This is excellent software, but the way support is generated still needs a little improvement. It deserves a try if the user can afford the high cost.
CAD Additive


Designed for powder bed fusion machines, CAD additive is a subsidiary of CADS GMBH. Though this company is young, this 3d printer slicer allows users to do any preparation work for any powder bed fusion machine. In other words, it is open to any printer.
Let's have a quick view of the features: Easy to use, Minimize your cost to print, and a guided workflow. Furthermore, it results in high-precision parts with good quality. But because we haven't tried it, we need to know how it works.
Advantage: Affordable, Easy to use
Disadvantage: We tried to search for some comments or videos about this software but couldn't see more useful information.
Conclusion
Choosing the right 3D Printer Slicer is the basis for successful printing. Of course, if you face the problem that the design file is unsuitable for 3D printing, you can contact our team for help.  
So far, IN3DTEC has provided professional 3D printing services for tens of thousands of designers worldwide. Our rich experience will also help you improve the project.
Black Friday Discount- Free Shipping for all online 3D printing